POSTED BY Jagoinvestor ON October 17, 2016
A few months back, I read an article that talked about the biggest financial goals of Indians. As per their survey, the biggest financial goal for 34% of the respondents was "Securing Child Future". The only issue was that their survey size was just 150.
"Retirement" was the biggest goal for only 2% of the respondents, which means just 3 out of 150 people marked "Retirement Planning" was their biggest goal.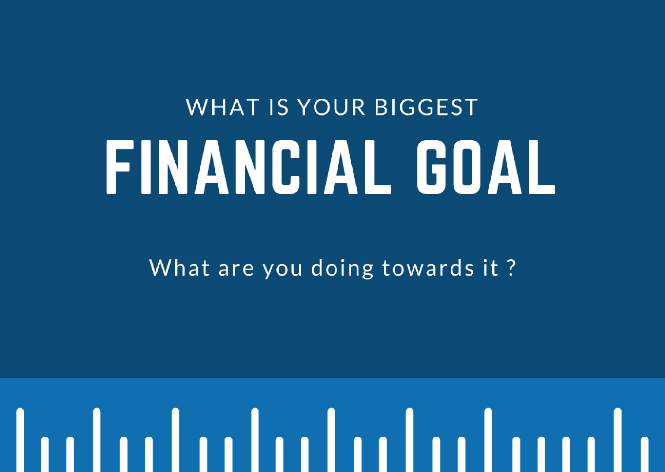 What is your biggest financial goal in life?
I was somehow not very convinced with their survey size of 150 because it's not a big enough sample size to decide what most of the people feel. So I thought of conducting my own survey with a big enough sample size , and I was able to get 11,324 survey responses.
The first thing I asked was "Which is your biggest financial goal in life?"
Think about it?
What if I posed this question to you directly and asked – "Which is your biggest financial goal in life?", what would you say?
I gave 6 options to people to choose from, and below were the results.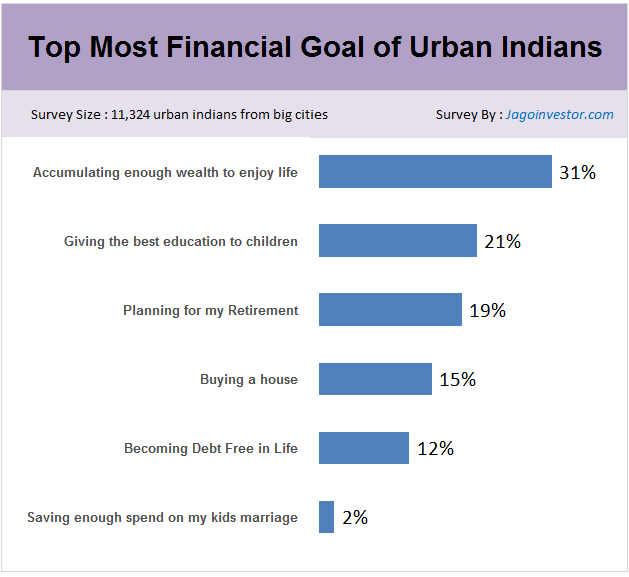 Goal #1 – Accumulating enough wealth in life to enjoy
"Accumulating enough wealth to enjoy life" was the topmost goal picked by the maximum people. This was very surprising for me because it was not a small sample size.
We had more than 11,000 people taking this survey and 3553 people out of that (around 31%) chose this option, which shows that somewhere priorities of people are changing these days. Now people want to accumulate wealth not just for retirement, but even to enjoy life before retirement.
They want to travel, experience new things in life, explore new hobbies and spend on themselves. In short, they want to enjoy life before retirement itself and not keep all the money only for retirement.
Goal #2 – Giving the best education to children
The next goal which was voted by maximum people was "Give the best education to their children". Around 21% marked it as the biggest goal of their life, which confirms that still "children education" is an important and most sought after goal for investors.
It's a given fact that giving the best education to your children is the best way to care for them and their future. Their life foundation is set by the quality of education you provide for them. It's surely one of the most satisfying goals for a person.
Goal #3 – Planning for my retirement
I was happy to note that a big percentage (around 19%) said that planning for their retirement was their biggest financial goals. I want to reinforce the point that this survey was taken by people who are net savvy and mostly belong to big cities and earning decent money each month.
This result shows that a good number of people have realized that  retirement is something they need to take seriously .
If I talk about you – Are you retirement ready? Do you feel you are doing enough for your retirement goal? If you are not sure, You can explore our pro membership program
We all have 30 yrs of working life to save money for 30 yrs of retirement on an average. So look at each year of working life-saving as a fuel which will help you each year of retirement. So what you invest in the year 2016 will help you in the year 2046 (2016 + 30 yrs). This concept comes from my book – "How to be your own financial planner in 10 steps"
Goal #4 – Buying a House
15% of people said that buying a house was their biggest financial goal. Given the unaffordable housing prices and the social stigma attached to "owning a house", I am sure a lot of people feel the "pressure" of owning a house. Only the people who still don't own home can feel the pressure and the worry associated with it.
No matter how many articles claiming "Renting is better than buying a house in India" comes, still its an emotional decision for people. They feel pressure from family, spouse, and society to buy a house and that's the reality.
Goal #5 – Becoming Debt-free in life
A big number of investors are getting into a debt trap and a big portion of their income goes into serving the loan or paying off some family debt. It's surely not a very great feeling to know that a part of your income will just go away somewhere and never return back or form any capital.
A lot of people want to get rid of debt as soon as possible and the high expenses these days make it very tough for someone to close their loan by paying off the debt soon.
Goal #6 – Saving enough money for kids marriage
I am sure we all have this goal in life.
We all want to save some money (or a little) for our kid's marriage, but 2% of people marked it as their biggest goal in life. I am not sure if they have achieved rest other goals already or not. I do not have much comment on this point, because I don't want to say if this is wrong or right. Maybe you can share what you feel about it?
So what is your biggest financial goal?
We saw all these 6 goals and how people responded to them. Would like to know what is your biggest financial goal in life and what do you think about this?