POSTED BY Jagoinvestor ON April 23, 2014
Today, I wish to highlight a fraud, which has been going on for many years, but one that has not received enough attention. While the fraud itself is small and easy to conduct, its impact on investor wealth is significant.
What is exactly is the Fraud ?
Many investors, who wish to deposit money in some financial product as a ONE-TIME payment, opt for a 'Single Premium' policy. Here they are required to just pay the premium fee once, and the policy carries on for many years after that.
The mistake some investors make, is that they convey these instructions verbally to their agent and do not fill up the form themselves. Neither they do verify the tenure filled by the agent. Now what many unscrupulous agents do, is that instead of 'Single Premium', they specify 'Regular Premium (or yearly) as the payment scheme – leading to a situation where the investor has to pay the same premium amount every year for many years thereafter.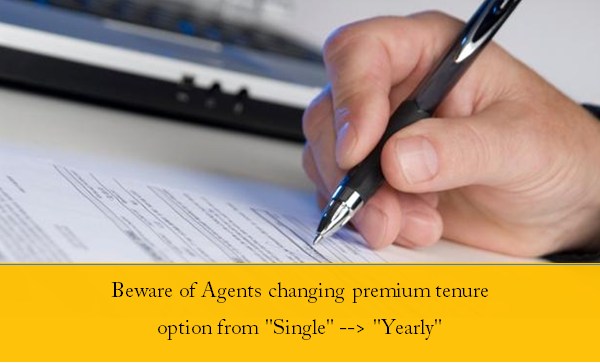 What are the possible problems which happens ?
The premium amount is quite substantial at times. People can't afford that sum each year and subsequently have to discontinue the policy
Investors remain unaware about the tenure of the policy and stay under the assumption that they do not have to pay any more money. However, the policy lapses after a year due to non-payment (If the investor does not have an email id, they do not even get premium reminder emails)
Even if investors come to know about the changed tenure, they need to run around from pillar to post just to cancel the policy – suffering the consequences of a problem which should never have been theirs to begin with
This whole experience shatters their faith in agents/ companies and leads them to avoid other agents in the future, even good ones.
There is a massive emotional impact as investors see this as a breach of trust and at times they lose their hard earned money – funds which thy might have set aside for some dream project!
3 real life examples of how investors were cheated by agents by changing the Tenure
There are several readers on this blog, who shared their real life experience in the comments section on how they were cheated and lost their money and peace of mind. I just want to make you aware of these experiences. Read on below.
Example #1 – How Mr. Syed Jibran cheated by people at HDFC Bank
Through the HDFC bank, I told the concern person to deduct the amount of Rs 200000/= from my saving account and consider as the single premum only, as i cant pay the amount of rs 200000/= every year. But later I come to know that they have consider my premium as the regular premium. Next day I sent the mail to head office, not to process my application and refund the same amount in my saving account.

I got the call from head office, that they cannot process to cancel my application, as they required in written cancellation letter . I agreed with team, but this is not at all my fault. Yesterday, I got a mail mentioning that there are free-look charges. This mail shocked me – even your agent cheats me, but you charges me. I send you many mails not to proceed my case and refund the same amount in my account. you can check that????????????????
Example #2 – How Naresh policies were Lapsed because he was cheated
One of my relative taken policy from Religare insurance broking ltd before 5-6 years ago with kotak-3 lacks, birla-8 & 5 Lacks as one time premium, now they are saying that the policy was regular premium plans and that is lapsed. sir now my relative want his money back.what should he do now.pls help.
Example #3 – How Reliance Life Insurance agents cheated Mr Ashok
We discussed with Reliance Life Insurance , Senior Sales Manager Mr Amit Khandelwal that we need single premium policy , he has taken our signature on application form and advised us not to fill the forms saying that " form is complicated and likely to be filled wrongly by you consequently form will be rejected , better I will fill up the forms , as discussed , we are doing day in out this. "

Later on , he filled up the forms in his own handwriting, he has given his own home address and the worst thing he did he has filled up regular premium payment of 5,00,00/- for 5 years despite that we decided for single premium.

Return of policies was not possible for us as we have received policies very late , much beyond 15 days free look period , as policies were dispatched to Sr Sales Mgr address.

Even after this Reliance letter , I was keep on getting phones from local Indore office that we are discussing your case with our HO Mumbai , but off-late nothing has happened as yet. It is a clear case of mis-selling , breach of trust, fraud and forgery by Reliance Life Insurance. Reliance Life has terminated policies and Fund value is 50%.
Why is this fraud done by Agents ?
Frankly, it's just because they earn higher commissions through this ploy. Agents earn meager commissions on "single premium" policies, but on yearly premiums they stand to reap much higher rewards.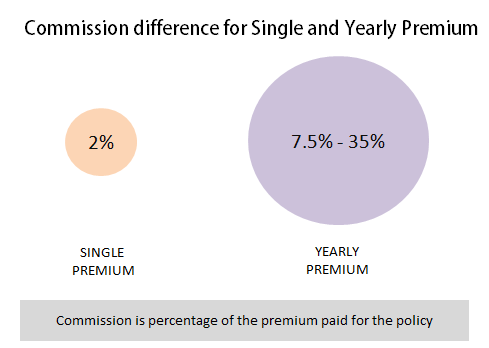 For example – For pension plans, the single premium commission is capped at 2% (that too one time only), however if it is a regular premium, the commission would be 7.5% for first year premium and 2% in subsequent years. Which means that if a person buys a pension plan with Rs 1 lac premium, for a Single premium policy, the agent will get 2,000 rupees, whereas if he cheats the customer and puts "regular" as the premium tenure, then he will get 7,500 rupees in first year and 2,000 in next year premium (provided it is paid by the investor).
Also on various other life insurance policies like endowment and moneyback plans, the first year premium is as high as 35-40%. So why would an agent settle for just 2% premium as commission, when he can take 20-40% of the premium (which is 10-20 times original commission)
How to save yourself from this fraud?
Here are some simple common sense tips which will work
Never ever let the agent fill up the form; you should always fill up the form yourself.
If you can't fill the form for some reason, let the agent fill it in front of you, and once he is done, review each point filled by him. Take photocopies of the filled form for your reference
If you still sense that the agent is being dishonest, return the policy in the free-look up period which is generally 15 days from the date when you receive the policy in your hand
Email the management and customer care and tell them you will be complaining to banking ombudsman and grievance cell about this and also file a police complaint on fraud.
I invite suggestions from our readers on what solutions are possible if someone becomes a victim of such a fraud?